This post is part of a series on reader requested (and personal curiosity) comparisons between various games' Japanese and English scripts. Last time, I looked at a death quote from Schaeffer, a level boss in Path of Radiance.
Today's post however concerns an exchange from the middle of Fire Emblem: Radiant Dawn, but concerns late game events in Path of Radiance as well.
As such, I'm putting in a spoiler warning for those who have yet to play Path of Radiance or haven't made it this far in this game! I kept the title vague as a result, but please be wary of spoilers from here on out.
Now let's take a look.
---
In celebration of the Black Knight's appearance in Fire Emblem Heroes, I take a look at one major change known to some fans that happened in Radiant Dawn. It revolves around a conversation Ike and the Black Knight have in Chapter 3-7 (Rivals Collide). The localization had made a major change (often cited as for the better), so let's take a look at what that change was.
(It's also hard to find it side by side, which is why I want to make this post for reference).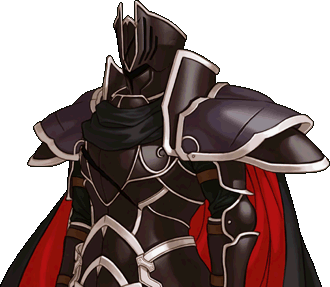 The following conversation happens when Ike encounters the Black Knight directly for the first time since their final fight in Path of Radiance, where he was thought to have died at Nados Castle. It is an optional conversation, but necessary for the "best ending" requirements.
| | | |
| --- | --- | --- |
| Japanese | Translation | Official Localization |
| Ike: やはり生きていたんだな | Ike: So it's true. You're still alive. | Ike: So, you are alive. Somehow, I knew it wasn't over yet. |
| BK: あの程度の技で私を仕留めた気でいたのか? | BK: Did you really think you could bring me down with such pathetic skills? | BK: Of course it wasn't over. You were a boy trying to live up to the memory of the greatest swordsman in history. |
| Ike: どういう意味だ!? | Ike: Explain yourself! | Ike: And yet, I was the one who walked out of the castle that day. |
| BK: 教えておいてやろう。貴様の父ガウェインと戦っていた時と貴様自身と戦っていた時の私は同じではなかったと | BK: I shall. The "me" who fought your father, Gawain, and the "me" who fought you are not the same ones. | BK: You have your father to thank for that. When you told me that he had crippled himself, I realized that I had never fought him at all, merely his shadow. |
| Ike: 別人だったというのか? | Ike: Wait, are you saying you're somebody else?! | Ike: What are you getting at? |
| BK:そういう訳ではない。 ただ空間を移動する関係で精神と鎧だけを飛ばすのと生身の身体ごと飛ぶのでは戦闘力に差異がでる。 | BK: Not necessarily. As it was, my power to warp sent only my spirit and armor while my physical body stayed behind. This caused a great disparity in my true fighting ability. | BK: I saw immediately that you were not your father's equal, but that one day you might be. So I did the only thing I could to keep you alive… I let you win. |
| Ike: いまはどっちなんだ? | Ike: So which one are you now, then? | Ike: …You did, didn't you? I've relived that fight so many times… How could I not have seen it before? |
| BK: 生身すなわち、 ナドゥスで対峙した時とは違うさらにもう1つ、 朗報だ。我が鎧の加護はあの戦いを終えたあと失われた。 | BK: Flesh and blood. That is, different than the one you fought at Nados. I have more good news for you, too. The divine protection on my armor faded after our last battle. | BK: You were not yet capable of seeing it. But I had to let you live, so that you could continue to train and perhaps one day be worthy of Gawain's legacy. My armor's blessing is gone; let us see if that day is today. |
| Ike:なら、特別な武器でなくともダメージを与えられるということか。こちらに好都合なことにな。  あれから3年―― 俺も あの時とは違っている。  行くぞ !! | Ike: Meaning you can be harmed by regular weapons now, huh? How fortunate. You'll find that I too am a different man than the one you faced three years ago. Let's go! | Ike: I promise you that it will be. Begin. |
As you can see, that is quite the difference! So the original Japanese is a bit interesting in terms of writing. While there was precedence for how warp powder does cause him to feel fatigued, there wasn't really any mention of soul/body transfer issues as seen above (this is still pending more research, but not as far as I saw thus far). So it is seemingly a little out of nowhere as a reason for how he survived. It's not a particularly bad reason, but compared to a lot of events in the game it does seem to be out of left field.
A few chapters later (in 3-12), Lekain shows off the rewarp staff to Pelleas and mentions its superiority compared to powder. Note that this is presented after the encounter already, though, so wouldn't really set said precedent. But it is a good check of consistency:
Before this lovely little item, we used that ghastly warp powder. It worked well enough, but would completely exhaust whoever used it. What's the use of someone traveling anywhere they wish if they're too exhausted to do anything afterward? It'd take a very strong soldier to withstand the powder's side effects. The rewarp staff solves that problem.
You can see Lekain only mentions "exhausts" whoever uses it here. This is of course the localization, so perhaps the Japanese said something different?
これより以前は、『転移の粉』なる品もあったが、あれは使用者の体力を奪いすぎる。戦場についたはいいが、立ち上がることもできぬほど疲れているようでは……ものの役にも立ちませんからな。 余程、屈強な戦士でもなくば……

(Super literal): Prior to this, there was "Warp Powder," but the user would be left deprived of physical strength. If used on the battlefield, it would leave one so exhausted they couldn't even stand… and thus was useless if you weren't a top tier warrior.
So, we see even with the body/spirit thing in Japanese before, Lekain simply mentions the same exhaustion here, thus the localization accurately translated this part. It is a little strange that he would not mention it again here, considering it is part of the extended dialogue according to the game scripts, too.
Perhaps it was upon seeing this that the localization took things into their own hands. They completely changed up the dialogue that lacked precedence and made it that the Black Knight lost the battle on purpose. They were incredibly fortunate that the context lent itself well to this change, too. For one, in Path of Radiance, Ike did say the following against the Black Knight at Nados Castle:
Black Knight: What an odd fate. This will be the third time I have defeated you. The first was in the forest of Gallia. The second at Delbray in Crimea.

Ike: We've met twice, and I've lost twice. But the third time will be different.

Black Knight: Oh?

Ike: My sword-fighting skills were given to me by my father. If I stay true to them, I cannot lose.

Black Knight: Did you never think that using your father's techniques on the man who killed him would be futile?

Ike: My father robbed himself of using his stronger arm. If he had, he would not have lost to the likes of you.

Black Knight: Hah… You think so? Let us test your stronger arm then. Come, son of Gawain… Show me your strength.
We will come back to this point later. The important part is that Ike did tell the Black Knight that Gawain had crippled himself and was not fighting with his true strength.
In Japanese:
・・・貴様の父親を倒した私に、同じ剣技は通用しないと・・・・・・考えなかったのか?

親父は・・・・・・!利き手を封じていた。そうでなければ・・・おまえに負けはしなかったはずだ・・・・・・

Black Knight:…Didn't you consider it futile to use the same style your father did against the one who defeated him?

Ike: My father…he sealed his dominant arm away! If he hadn't…he wouldn't have lost to you…
The Japanese uses the literal word "seal" (as in to seal an envelope). He doesn't necessarily tell the Black Knight about any sort of self mutilation that may have been involved, but, regardless, he did inform him in both versions that Gawain was holding back or crippled in some fashion.
With this in mind, the localization sought to (and were able to) change this conversation to fit the Black Knight's overall narrative in Radiant Dawn. In this game, he seeks to fight Gawain at his full potential, realizing that he had never truly surpassed him after learning of this. It seamlessly fit into the overall narrative of the Black Knight's character, and so went by without any real question from fans who were unaware of the original Japanese. That is generally a sign of good localization.
So he lost the battle on purpose, and here he is. It can make sense too as to how he could just warp out of the castle to survive it last minute with the scars remaining on his armor.
Various issues arise in the Japanese version too, as to  how he may have retrieved his armor if only his "armor and spirit" had warped. Did he retrieve it in Crimea later on (as Zelgius perhaps)? It has to be the same set as he has the scars from Ike's sword on it, for instance. Is his warp malfunction occasional? Or all the time? We see him warp a few times, his body didn't stay behind in any of these instances, unless that was his armor/soul returning to his body? It gets a little hard to keep track of as to whether they were consistent with this issue or not.
I went back to look at Path of Radiance too for mentions of the warp powder. I came across this scene. Here it is in the localization:
Ashnard: Ha! Don't tell me it was difficult! I know you! I know you use that arcane powder to travel about at will.

Black Knight: The powder drains my strength. For that reason, I would rather not use it unless absolutely necessary.
Once again he mentions "drains my strength." What about in Japanese?
・・・・・・あれは、使うたび体力を奪います。余程のことがなければ、使わずに済ませたいほどで・・・・・・

(Super literal)… each time I use it, I'm left completely deprived of my physical strength. Unless the situation is dire, I'd prefer not to use it…
Once again, the localization carried it over fine. Another thing to note  is the Black Knight used the exact wording Lekain did in his earlier speech (体力を奪います, lit: "drained of physical strength.") The point of presenting this is, once again, this was always what the warp powder was shown to do. There was no mention of any possible malfunction with mind and body.

While one may argue that it was a secret that only those who could use the powder effectively could know and thus not disclosed to someone like Ashnard or Lekain, we are focused on the context and dialogue we are given.
So, returning main point: localization may have actually led to much better writing and consistency at the core of the game (rather than general tonal writing). This is of course subjective, by "better writing" here I simply mean in the objective sense of something that has stronger precedence to it. They knew the warp powder was physically exhausting. It was stated as such in Path of Radiance and just a few chapters after this very scene in Radiant Dawn. But the soul/body discrepancy was not.
One can only speculate, but perhaps someone in localization also felt a little off by the soul/armor warp excuse and felt it was an opportunity to make it more consistent to the overall narrative of the game. The situation was perfect for it: There was previous mention of Gawain's crippling, and nothing after this conversation would directly reference the warp powder malfunction. As a result they were able to change it without too much trouble.
Later on, as one nears the end of the game and duels with the Black Knight on Part 4 Endgame 2, Zelgius says the following:
I was entranced by Greil's swordsmanship while he was in Daein. I studied under him, I fought next to him… I idolized him. When he left, I was crushed. I vowed to find him again, and challenge him to a duel. I had to know if I had surpassed him! Three years ago, I caught up to Greil. I challenged him to a duel, and was victorious. But, something was wrong… The fight had been too simple. I thought I'd never feel satisfaction again. Then, Ike told me why it had been so easy. Greil had severed all the tendons in his right hand, and swore never again to draw a blade. Can you imagine my joy at the news? I knew that a swordsman of his stature couldn't have been so easy to defeat!
The bold part is the important takeaway to compare. In Japanese:
しかし師は…実は利き腕を傷つけ、剣を封じていたのだ。後でそれを知らされた私は…狂喜した。己の超えるべき剣士があの程度であるはずはなかったのだと。

(Super literal) But my teacher [Greil]…had actually severed his dominant sword arm and sealed his sword [abilities] away. I was made aware of this later…and was overjoyed. It meant I may not have surpassed such a proficient swordsman after all!
You can see "seal" pop up again, but this time "severed" does too! But, the most important take away here is the use of passive voice. He was "made aware" of the fact. The localization, instead, directly credits Ike for this, fitting it back to the scene with "letting him win" since Ike had told him, as presented in the dialogue for Path of Radiance. This goes back to what I said about the dialogue having lent itself well to localization simply out of circumstance. They simply attributed his learning of the matter to Ike, rather than a potential unnamed third party.
One reader suggested that perhaps we are not to take his words literally. After all, he may have meant that the body that "stayed behind" was that his stamina itself staying behind was as if his body stayed. While that is possible, I don't think the script was really indirect or poetic on such things. So I double checked by looking around the Japanese side of the internet, to which this summary from a Japanese wiki says:
クリミアのナドゥス城で戦ったのは漆黒の騎士本人ではなく、彼の精神と鎧を転移させただけのものだったことが判明する。その為、精神と鎧だけで戦うのと生身の身体で戦うのは戦力に差異が出るというのだ。つまり、ある意味でアイクと漆黒の騎士は本章で戦ったのが最初と言える。

…He [the Black Knight] reveals that [Ike] did not face the real Black Knight himself at Castle Nados in Crimea, but only his spirit and armor which was teleported instead. The discrepancy in fighting strength thus became apparent from the fact he was only fighting his spirit and armor. As a result, it can be said that this means this chapter is the first time Ike and the Black Knight actually fight.
I put the most relevant line in bold, but overall the above shows that it was indeed literally interpreted by the Japanese audience too. While the rest could be a summary of the game, this line alone is not a quote from the game but with the word usage of 本人 (the real man himself), you can see they took the separation literally and not as a product of the warp powder's stamina draining issue.
Though that last line makes me wonder if that means Ike never actually faced the Black Knight at all. Perhaps he was facing his armor the whole time…? That's a story for another day! (Of course they may be discounting Ike's first two attempts as actual fights, which resolves that issue).
The other point would be, if he was speaking figuratively, then localization would have made it clear in their translation as they had been quite faithful with all the other aspects of the Black Knight. It would be odd to make this change if it was something that could be explained rather easily. As such, they, like the Japanese players and myself, likely took it literally too. With these points in mind, the figurative interpretation can be safely put to rest.
On a side note, neither version really says why his armor is no longer blessed, however. But that is a different issue entirely. (Perhaps due to Ragnell striking it? HP below a certain point? Who knows…)
One final question we may never get a clear answer to is whether localization contacted the original staff about this change. They are often in communication with each other (especially for simultaneous releases, though that is more of a recent trend rather than back where FE games took several months to come out in English), so one can only wonder if they had consulted them on this change, or if it was entirely the localization's decision (that the home office still may not even know about).
We can try to form an educated guess, however. In an interview with some of the localization staff on the previous game, Path of Radiance, featured on Nintendo World Report, localizer Tim O'Leary mentioned something interesting in response to this question:
PGC: What changes, if any, are there between the Japanese and U.S. release of the game? Any plotlines altered, references dropped, etc.? Any improvements over the Japanese version?

Rich: We tried to keep everything we can in the story. It has to do with our relationship with Intelligent Systems and what they've intended for the story. We don't change any of the plot elements, we defend them[1]! If anyone has a desire to change anything we'll charge the gates with our letter openers!! We care so passionately about these games it isn't funny. If there are any small references changed, it's only because it may have been something never before released in America, so very few players would know about it. After all, we've only had three games localized so far. We make sure what we get in the Japanese text stays in the English text. All of the references that Intelligent Systems wants to be seen, get seen. Sometimes though, we don't realize when something is important because we get the files in episodes as the game is still being developed in Japan.[2] So we always ask the development team to give us a break down of the important things: like the Fire Emblem's role. What is it? What does it do? What is its involvement with the story? That kind of thing. [3]

I put three points of interest in bold.
The first line is an admission of defending plot elements. This article is focused on how one was somewhat changed quite drastically, but shows there may have been something else going on we may not know about that demanded it. Perhaps the Japanese staff wanted to make an amendment? Keep in mind this interview is for Path of Radiance and not Radiant Dawn, so perhaps, in defending said plot elements, the localization changed it to indeed protect FE9's plot consistency, rather than change FE10's, if that makes sense.
The second line is another thing worth noting. It shows they were getting the text (of FE9) during its development in chunks concurrently, rather than after the fact. Therefore, they were indeed translating with less context than the writers would be aware of. I stress the importance of context in many of my other articles, too, and how important it is for any translator to have the full context. I assume this means they did the best they could with what they were given. However, again, the above is for FE9. Running on the assumption that perhaps they were given FE10's dialogue in chunks too, they may have approached it with the isolated contexts they were given.
This last line establishes the fact that they do ask for the most important things in advance, such as the Fire Emblem and its role. Notable to this post may be that they were aware of the Black Knight, his overall motives, intentions, and character well in advance of this chunk of dialogue. Thus they were able to, in advance, change his dialogue for consistency.
Again, this is in the realm of intense speculation going off what we know. And, the above interview is for Path of Radiance, not Radiant Dawn. But it's all we have.
The above begs the question as to whether this was a change they consulted with the original staff on or not. Tim O'Leary and Rich Amtower seem quite passionate about the project and preserving the original flavor and meanings indeed. I want to quote something from earlier in the interview. On the subject of name changes that occur, Rich states:
Rich: We've been given a lot of… let's say "faith" from Intelligent Systems. They really care about how the game is received in America and want the absolute best possible reception.
This was on the subject of names in previous entries and Path of Radiance. But, the important takeaway is said "faith" to "want the absolute best possible reception" in America. It is this line that makes me wonder if this was a decision purely on the localization end to help solidify consistency that they perceived a western audience potentially being less willing to accept? Perhaps not all their decisions have to go through the original staff thanks to said "faith" in the matter.
If they indeed had no consultation with the writing staff and it was their own decision, then it brings up how far localization should go in changing things. Beyond making it "better" or "worse," it's a simple question of whether they should change something to make what they see as "better/consistent" writing at the expense of the original intent, or whether they should take a liberty as what they see as a better fit but not really true to the core material. It is indeed a hard question, but one that is nice to think about and often debated.
Regardless, many enjoyed the results. There was no real question as to whether it was an accurate translation upon reading, and indeed it was those who only experienced the Japanese version who could spot this inconsistency.
The Japanese players ended up with a completely different experience/knowledge of how the Black Knight survived Nados Castle which would sound ridiculous to a western fan and vice versa, as a result.
Let it be known that the Black Knight's fate at Nados isn't the only change localization made to this game. There are other things regarding the Blood Contract and such that I hope to make posts later on about. As well as the whole extended script (a still ongoing project that I am compiling in the background).
In short:
In Japanese, the Black Knight had what seems to have been a warp powder malfunction that only sent his spirit and his blessed armor to fight Ike at Nados, a malfunction that is without any apparent precedent. In English, the Black Knight had let Ike win after learning of how he only fought a shadow of Gawain, and wished to face his style in its prime. This fits with the overall narrative of the Black Knight's goals too, and the change comes of little consequence as later dialogue does not really reference this warp issue at all. It's a case where localization may have helped the core writing of the game (rather than just general tonal writing), perhaps using their faith from Intelligent Systems as well as their urge to preserve FE9 lore. It may bring up the question of how much localization should change something to what they may deem as "better," however, deviating from original intent. A question of ethics in localization.
But that is not what this article is about, it is about what changed and how it may have changed. The game is known to have had other changes between the languages, too. This is just one example of many.
References:
Infographic summary:
Below is an isolated table with direct comparison for reference, and a shareable infographic is at the end of this post.
---
So what do you think of the above dialogue? How would you have went about localizing it?
I will continue to look at fun differences between games. Any dialogue you're interested in? Let me know in comments or via email!
If you like the comparison work I do (or any other translations I do), please feel free to support me by donating! I do this all on my valuable free time, and so every little donation really helps me out. : )

Note: This post was originally written September 2017. I updated it with more tidbits from the interview as well as lore from Path of Radiance regarding warp powder to help it be more in depth on May 23rd 2018.