This post is part of a series on reader requested (and personal curiosity) comparisons between Fire Emblem games' Japanese and English scripts.
A reader over on twitter sent me the following:
Do you know what the inspect quotes were like in JP Echoes? Some of them were pretty cheeky in English.
They provided screen shots of the lines they were curious about. I already covered the first one regarding Celica and "pirate booty" previously, so onto the next one!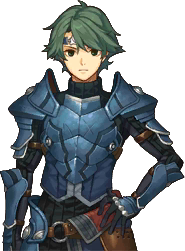 | | | |
| --- | --- | --- |
| Japanese | Lit. Translation | Official Localization |
| 魚だ。海賊たちの食料かな? | It's fish. Is this what the pirates ate? | What do you call a pirate who hates fish? …A veget-YAR-ian! Aaaah ha ha! |
The above takes place during observational phases, when you inspect certain items in the game.
So here we see fun with puns, things that localization (in general) are (in)famous for. To be fair, Japanese is a language that lends itself to plenty of punny opportunities, and sometimes it is the easiest way to convey a joke. So we often see puns come up in localization.
However, this may fall into the sector of "unnecessary pun" (where most seem to fall), from a purely translation perspective, that is. The Japanese, as presented by the literal translation, is a simple observation of the matter. He sees fish, and he wonders if it is what they ate.
The localization goes a different way. It goes to a (likely purposefully) lame joke that Alm has some fun laughing at himself for the corny nature of it. It is possible that perhaps this joke came after considering whether that fish is what the pirates ate, and so he just takes it a step farther in terms of mind-association, which would still make it peripherally related to the Japanese line. Regardless, it still may be a little jarring to the more serious players, or those who may roll their eyes and wonder why this is in there at all.
That should not discount those who prefer the slight light-heartedness that can give a needed respite to an otherwise dark story, or to those who enjoy the jokes in general, though.
It's possible the localization may have wanted to portray a more childish side to Alm (which can be argued for the previous Celica post as well), and they decided to alter this quote during the inspections as a way to do so harmlessly.
In the end, as with many things, it comes down to personal preference. Which do you prefer?
In short:
The Japanese line is a strict observation and thought. He sees fish, he wonders if the pirates eat it. The localization makes it so he sees fish and attempts to make a (likely purposefully) corny pun-filled joke about it. Localization is no stranger to puns. Sometimes it's to convey the intent of a Japanese joke, and other times it is purely a creation of the localization. In this case, it is the latter. It may serve to portray a more childish side to Alm, however, or to give the player a "break" from the bleak reality the character faces. Regardless, it is not something that existed in the original language, nor is there any indication of it being the original intent behind the observation.
---
References and notes:

Summary infographic:
---
What did you think of the localization? The original? Which do you prefer? How would you have went about handling it? Let me know!
I will continue to look at fun differences between the versions of Shadows of Valentia as well as other Fire Emblem games!
Any dialogue you're interested in? Let me know in comments or via email!